When:
11 August 2022 @ 6:30 pm – 8:00 pm
2022-08-11T18:30:00+10:00
2022-08-11T20:00:00+10:00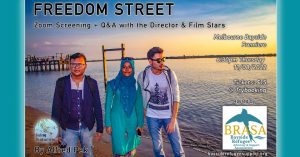 The new Australian-made documentary 'Freedom Street' premiered recently, and has collected several awards. It tells the story of the 14,000 refugees in Indonesia who are living 'in limbo' as there is no plan for their resettlement. About half are Hazaras from Afghanistan, and many are Rohingya from Myanmar. They are stripped of most of their human rights. They have extremely limited access to such necessities of life as medical and dental care, spectacles etc. They are not allowed to work or enroll in study. They are subject to a curfew. Their children cannot attend Indonesian schools etc.  Money from the Australian Government goes to the International Organization for Migration, which keeps them in very basic and crowded accommodation, and ensures that they do not attempt to come to Australia. This is a matter that all Australians need to be aware of.
The documentary is an official selection of the 2022 Melbourne Documentary Film Festival. The director, Alfred Pek,  follows the story of three of the refugees, a young woman named Aziza, and two young men named Joniad and Ashfaq.  He sets their story in the historical context of the development of Australia's refugee policy over recent decades.
The Bayside Refugee Advocacy and Support Association and the Director, Alfred Pek will co-host an online screening of the film via Zoom on THURSDAY 11 AUGUST 2022 at 6.30 pm.  The screening will be followed by a Q & A with the director and two of the three stars. The cost will be $15. Proceeds will be used to offset costs of production of this ground-breaking documentary. Tickets are available from Trybooking.
https://www.trybooking.com/CAXDX
You can see our event listed on Facebook Events: https://www.facebook.com/events/582182536827087
How it works
You purchase a ticket at the Trybooking website. You will receive an acknowledgement of your purchase by email within two days.  You will receive a  Zoom link on Wednesday 10th August (one day before the screening time). This link will enable you to view the documentary on Thursday 11th August at 6.30 pm, and to participate in the online Q & A that follows."