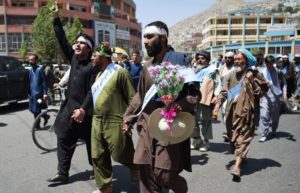 Below is an extract of an article by Roshni Kapur entitled 'How Afghanistan's Peace Movement Is Winning Hearts and Minds' which was re-published by Truthout on September 22, 2018. The article was first published by Waging Nonviolence on September 13, 2018.
In May 2018, a group of seven Afghans in the mostly Taliban controlled province of Helmand set off on a more than 370-mile peace journey to the capital city, Kabul, sparking a nationwide movement.
Residents of Helmand have been paying a high price ever since the province turned into a battleground between Afghan forces and the Taliban. The catalyst for the peace march was a car bomb attack during a wrestling match in March that killed 14 people.
The protesters began with a hunger strike and a sit-in protest in the province's capital, Lashkar Gah, within 24 hours of the suicide attack to demand an end to the violence. The activists held meetings with both the government and the Taliban, but when no results were produced they decided to walk to Kabul to further advocate for their peace message.
The war-weary Afghans traveled across the country, passing through difficult terrain in the scorching hot sun. The final leg of their march happened during the holy month of Ramadan, which they continued while observing their fast. They were welcomed in the villages which they passed through and were offered food, water and places to rest.
In total, they marched across six provinces, passing by Taliban-controlled areas. In the city of Ghazni, they were even warned by the Taliban not to enter an area because it would be dangerous …
Their tenacity and courage attracted around a hundred Afghans from places like Kandahar and Herat to join their peace movement, including women … The protesters had covered over 370 miles by foot in a span of 40 days. They were given a warm greeting by Kabul residents who offered them food and water as well.
Despite being exhausted, the protesters were ready for their next phase of activism. They met Afghan President Ashraf Ghani and gave him a list of demands for sustainable peace. Some of the demands included hosting a place for peace talks, brokering a one-year ceasefire and launching a new mechanism that will look into the interests and needs of all Afghans. The protesters also formed a committee to reach out to the Taliban with a similar set of demand …