News
28 May 2019 – Colonising First Nations: From the Killing Times to Reserves to Incarceration
Paul Gregoire Sydney Criminal Lawyers May 25, 2019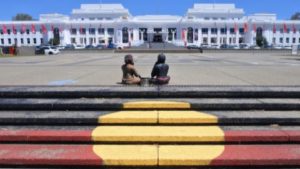 The British colonisation of the continent now referred to as Australia was based on terra nullius, meaning the land was neither owned nor occupied. As the High Court of Australia acknowledged in 1992, this was a lie, which was obvious to the First Nations peoples and the invaders at the time.
The problem for the British as they pursued their takeover of the land was that it was already being occupied by the locals. So, in order to deal with this setback, the invaders undertook policies of genocide, segregation and then incarceration: a measure still being utilised to this day.
Soon after the arrival of the British ships in the Warrang/Sydney region an outbreak of smallpox struck down around 90 percent of the local First Nations population, which some assert was an act of biological warfare, with the disease purposefully being deployed   Read More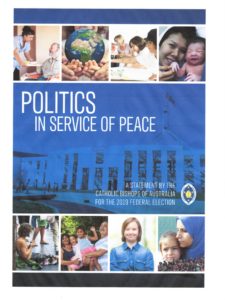 A STATEMENT BY THE CATHOLIC BISHOPS OF AUSTRALIA FOR THE 2019 FEDERAL ELECTION
Christian faith is not a private matter. It shapes how we live our lives in public,
as well as how we relate to God.
Politics can be the object of criticism, even scorn, but it is an arena in which we can express our faith and therefore the truth of our humanity.
As citizens who are Catholic, we have the opportunity to participate in the electoral process, to use our voice and our vote for the benefit of the whole community.
As bishops, we offer this statement as a way of sharing key points of Catholic teaching that you  may want to reflect upon as we  prepare for the federal election.
Fr Claude Mostowik reports on the activities in April 2019. Read full report here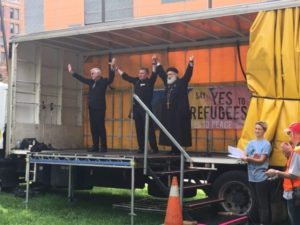 Fr Shenouda, Fr Claude Mostowik and Rev John Barr share their reflections at the Palm Sunday Rally. held on Sunday 14th April 2019
Why they had to die in vain ?
April 23, Tuesday 2019 was declared a 'day of national mourning' by the Sri Lankan government, with the call to remember those who lost their lives and suffered injuries for nothing. Read Full Statement
16 April 2019 – Pax Christi International mourns the death of International Board member Fr. Neles Tebay of the Papua Peace Network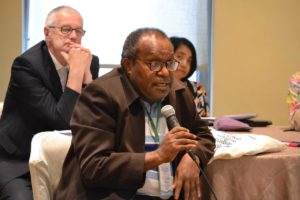 6/4/19 – It is with great sadness that Pax Christi International shares the news of the death of Fr. Neles Tebay, a member of our International Board and the coordinator of the Papua Peace Network. Fr. Neles, who suffered from bone cancer, had been in intensive care for the last few weeks at St. Carolus Hospital in Central Jakarta. He died on Sunday, 14 April.  Read Full Article
4 April 2019 – Pope Francis: Countries that sell arms have no right to talk about peace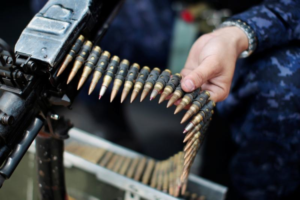 VATICAN CITY (CNS) — Nations that actively engage in arms dealing and help foment war in other countries should not expect to find peace in their own lands, Pope Francis said……
Countries that sell arms, he said, "have no right to talk about peace. They are fomenting war in another country, and then they want peace in their own land."…….Read complete article
4 April 2019 – Nuclear age: Humanity is flirting with extinction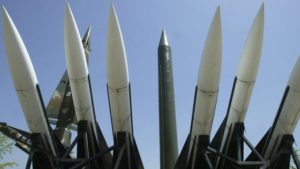 The most stunning and frightening truth about the nuclear age is this: Nuclear weapons are capable of destroying civilization and most complex life on the planet, yet next to nothing is being done about it. Humanity is flirting with extinction and is experiencing the "frog's malaise." It is as though the human species has been placed into a pot of tepid water —  Read More