Jun
30
Sat
Rally Against Weapons Export Industry

@ QV Statue, QVB
Jun 30 @ 12:00 pm – 1:00 pm

Rally at Queen Victoria Statue, QVB, Sydney CBD, Sat 30th June, 12 noon
Protest Government using $3,8 billion promoting arms export industry.
A rally against Australia spending $3.8 billion to promote the sale of weapons to overseas countries (including Saud Arabia and Israel) is planned for Saturday June 30 at 12.00 outside the Queen Victoria Bulding (near the Queen Victoria statue). During the rally, 'Australian Military Sales Catalogue' will be symbolically destroyed. The rally is being organised by the Anti-Bases group, Nick Deane and Bevan Ramsden.
Rally leaflet: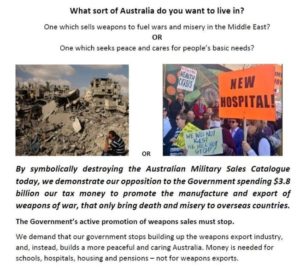 Consider signing the petition calling on the Australian Government pushing Australian arms exports. https://www.change.org/p/prime-minister-of-australia-stop-pushing-australian-arms-exports
Jul
2
Mon
Screening of Border Politics & Live Q&A with Julian Burnside

@ Randwick Ritz
Jul 2 @ 6:30 pm – 8:30 pm
Sydney Peace Foundation – Screening of Border Politics
On Monday 2 July, 2014 Sydney Peace Prize recipient Julian Burnside will be in Sydney for a Sydney Peace Foundation screening of his new film Border Politics.
Border Politics follows Burnside as he travels the globe examining the harsh treatment of refugees at the hands of western democracies.This contemporary story is about the threat to human rights, the loss of democratic values and our increasingly heartless treatment of 'the other'.
Don't miss this exciting opportunity to hear from Burnside on his experience filming Border Politics, and how we can turn the ship around to regain our humanity.
6pm for 6:30pm start | Monday 2 July | Randwick Ritz
Jul
17
Tue
Keeping Australia out of U.S. Wars

@ NSW Teacher's Federation Auditorium
Jul 17 @ 6:30 pm – 8:30 pm

Public meeting: Keeping Australia out of U.S. Wars
Three authoritative speakers on the need for an independent foreign policy for Australia.
Korea, prospects for peace and Australia's role – Michael Pembroke, NSW Supreme Court Judge and author of the acclaimed book, Korea: Where the American century began.
 
The urgent need for an independent foreign policy – Lee Rhiannon, NSW Senator and long time peace and justice campaigner.
 
"Give'em the boot!"- Nick Deane on IPAN's Campaign to terminate the Force Posture Agreement with the U.S.A. and send the U.S. Marines back home.
 
Followed by Q & A Session with Panel
Chaired by Annette Brownlie, Chairperson of IPAN
Tuesday, 17th July, 6.30-8.30pm
NSW Teachers Federation Auditorium, entry 33 Reservoir St, Surry Hills, NSW
$10 entry ($5 concession).
Bookings at https://www.trybooking.com/392122
For more information: Bevan Ramsden 0418 697 528