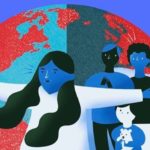 The following speech was given by Maggie Galley at the Women's March to Ban the Bomb in Parramatta Park on 17 July 2017
Good afternoon – I would like to acknowledge that we are on Aboriginal land: always was, always will be.
I am here because I am a mother and grandmother and I hate the war industry with all its trappings to my core. I mourn for all the people caught up in war. I am Secretary/Treasurer of Pax Christi Australia and a member of Pax Christi NSW branch. Pax Christi is a Christian international group. I became an active member of Pax Christi just prior to the Iraq war. I was incensed that our government was discussing and planning going to war.
Pax Christi in Australia is a very small group but we work in whatever way possible towards a just peace. I see myself as a concerned global citizen nothing more nothing less.
I am deeply concerned about the future for our children and grandchildren. I do not want our beautiful world destroyed by the madness of nuclear weapons.
Thomas Merton was a Trappist Monk and a man before his time he said "Christians are most gravely and seriously bound … to try at all costs to avoid so an enormous disaster as the imminent probability of massive and uncontrollable destruction that nuclear weapons will bring."
I know that there are many people of faith and lots of non faith people working towards a Just Peace but there is no excuse for our Australian faith leaders not to be at the forefront of opposition to war and the destructive industries of nuclear weapons in all its forms.
The silence of our Australian religious leaders is deafening!  Fortunately, Pope Francis is not silent he addressed the UN General Assembly conference in March and added his voice to the global call for a total prohibition on nuclear weapons. He condemned the doctrine of deterrence as it does not address any of the issues of our world is now facing such as climate change, poverty and the horrendous situation in Yemen and East Africa with all the resources misdirected to war mongering and not to the alleviation of such human suffering!
As Pope Francis says "we need to ask ourselves how sustainable is a stability based on fear, when it actually increases fear and undermines relationships of trust between peoples."
Last year I completed a ten week online course at Stanford University Living at the Nuclear Brink. This course was developed by Dr. William Perry a former Secretary of Defense in the US Administration under President Clinton. Dr William Perry is terrified about the prospect of a nuclear weapon being detonated in one of our cities and says that this is the "gravest security threat of our time."
Dr Perry believes that governments would be able to do many things to reduce this grave threat but we need tell them loudly and clearly that we want constructive action to rid the world of such destructive weapons. I don't think we are doing enough alerting both to our own leaders and our faith leaders. I don't think we really want to think about it as the thought is all too much. Dr Perry has dedicated the rest of his life to educate the public about these dangers which he believes has never been so urgent as it is now. I recommend you educate yourself further and go as one suggestion  to the William J Perry Project website so we can get collective fire in our bellies about this clear and present danger
I am totally dismayed that the Australian Government has chosen not to be at the table at the United Nations for this opportunity to create a safer world. I am totally dismayed that our religious leaders have not shown leadership and insisted that the Australian government represent Australians at such crucial talks.
To quote Pope Francis again: "The common destiny of our humanity demands the pragmatic strengthening of dialogue and the building and consolidating of mechanisms of trust and cooperation, capable of creating the conditions for a world without nuclear weapons."
We want a future for our children and grandchildren. We have a responsibility to speak out in whatever way we can to tell strongly our leaders both government and church that a safe world is a world where all people are respected and that nuclear weapons have no place in it.
Notes
Access the event's Facebook page here.
View the event's leaflet for the rally here.