When:
26 February 2022 @ 9:30 am – 3:30 pm
2022-02-26T09:30:00+11:00
2022-02-26T15:30:00+11:00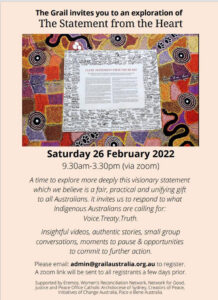 Pax Christi friends
Belated Greetings for a forward looking, creative and positive 2022 with accelerated action on care for creation, our common home, and care for one another especially the poor and marginalised.
I'm forwarding an invitation from The Grail to join this Feb 26th zoom day for participants to explore the Statement from the Heart which 'Invites all Australians to walk with Indigenous people in a movement of the Australian people for a better future'.
Register at admin@grailaustralia.org.au  and please share the invitation amongst all the Pax Christi members around the country.
Pam/Clare/David could it also be sent to those who attended the Qld Pax Christi zoom conference which focused on aboriginal and TSI/indigenous people?
The zoom on Feb 26th will enable participants to discern what actions they could take to support a referendum on a Voice to Parliament enshrined in the constitution and to inform and encourage others to support it too.
– for more detail on the Statement see Home – From The Heart and What is a Voice to Parliament? – From The Heart