When:
17 September 2022 @ 3:30 am – 21 September 2022 @ 4:30 am
2022-09-17T03:30:00+10:00
2022-09-21T04:30:00+10:00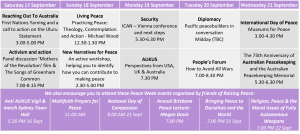 Message from Gill Burrows member Pax Christi Australia and Pace Bene
Raising Peace is back for this year's International day of Peace celebrations with a 5 day program which also gives details about some associated offerings from other groups.
As before all events are online and free and you must register via Eventbrite for each event you wish to attend – link below and on website.  You will be sent the zoom log-on links closer to the event date.
Pace e Bene are involved in two events this year … Our member Rev Michael Wood is offering a 1 hour session Sunday 18th 12.30 – 1.30 entitled Living Peace.  It is based on Michael's recently published book 'Practicing Peace'.
And we have been involved in organising the interactive workshop on Sunday 18th 2.30-5pm entitled 'New Narratives for Peace'.
Hoping to see lots of you again this year and welcome to any newcomers!  The session are open to everyone and anyone worldwide –  limited only by time zones  so please share this with family, friends and networks wherever they may be .  There is a time zone calculator on the website.
Scroll down for program and details.  Let me know if you need clarification or have queries.
RP website: https://raisingpeace.org.au/2022-raising-peace-festival/  scroll down for interactive calendar and click on each session for more details.
Eventbrite: https://www.eventbrite.com.au/e/raising-peace-festival-2022-tickets-400572120997